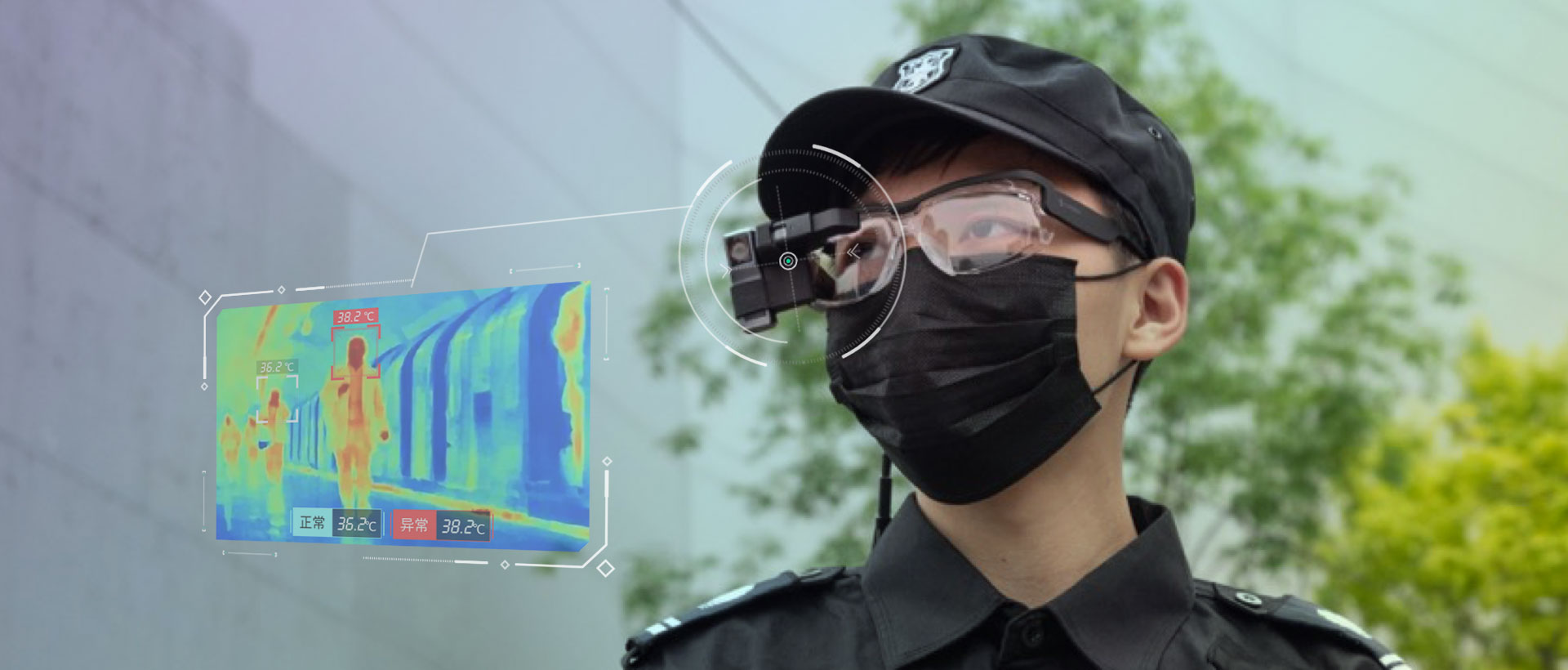 Based on our advance artificial intelligence and dual spectrum imaging technologies, LLVISION comes up with this fast, accurate and secure thermometer solution. This solution does not only provide automatic forehead temperature targeting capability, but also performs second to none, in terms of speed, accuracy and multidimensional big data.
Highlights:

3 Meters Safety Measurement Distance
AR glasses can measure the temperature and face recognition of multiple moving targets 3 meters away. with face recognition algorithm and automatic forehead positioning technology, the detected target does not need to remove the mask.
±0.3°C High Accuracy
With self-developed environment temperature and distance compensation algorithm, combined with dual spectrum error correction and black body calibration technology, it automatically and accurately positions the forehead to avoid interference from other heat sources and effectively avoid false alarms.
Respond in 1 Second
Equipped with 1T Flops/W high computing power and edge computing chip, glasses can measure 200 people/minute. When the temperature of target exceeds the standard, the AR glasses will display the relevant warning information within 1s and play the temperature data and warning sound.
Data Management
Each measurement result will be accurately bound to face recognition results, time, location, on-site image and other information. information is automatically recorded and reported. Easy for traceability and management.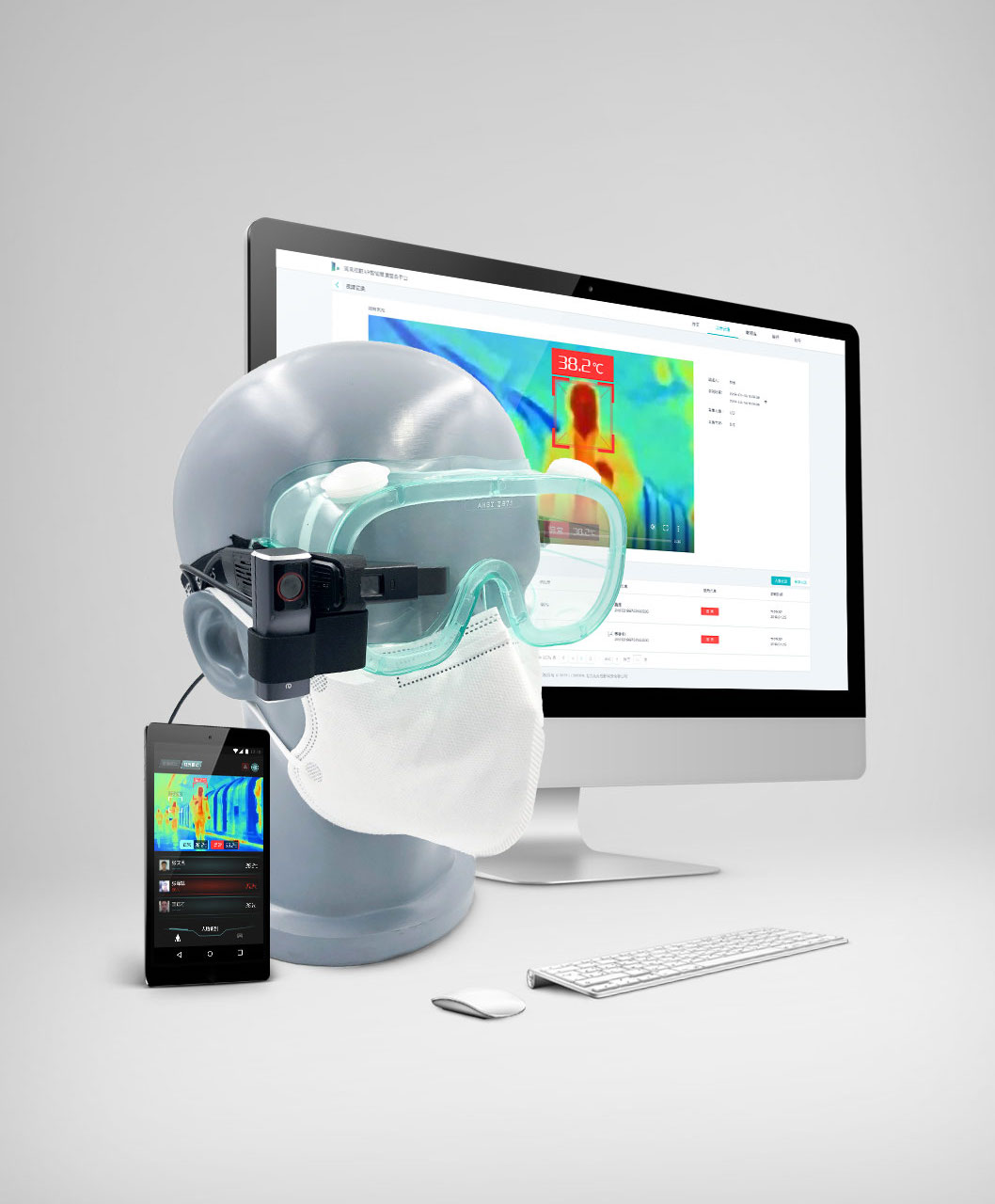 Scenarios

1. Transportation center:Customs/Border check point/Airport/railway station/Bus station/High-way check point, Fast temperature measurement for travelling by vehicle person.

2. Work resumption:Resolve efficient temperature screening for office building, industrial parks, construction sites, factories work resumption, etc.
3. School area:Rapid verification of the temperature of school staff and students at the start of the school year in major institutions and local primary and secondary schools and kindergartens
4. Community: Widely used in communities, supermarkets, shopping malls and other personnel-intensive living areas. Personnel temperature measurement, high temperature alarm.
App
Smart Glasses AI Dual Spectrum Thermometer - Offline Version (Android)
Dual-spectrum infrared temperature measurement
AR glasses automatically locate the forehead and measure the temperature through the AI algorithm and dual-spectrum imaging technology, no need to aim at the human face.
AI Face Recognition
The program supports up to 100,000-level offline face database or 1 billion-level online face database, with accuracy of up to 99.7%.
FPV AR display
Hands free and mobile recognition. Compatible with helmets, medical goggles, industrial goggles and other safety protection equipment.

Big data management
Information is uploaded in real time, connected to the big data system, countable and retrievable.
Smartphone: Android 6.0 or above
Browser: Google Chrome 56 or above
Server: Ubuntu 16.04 or above
AbuDhabi International Airport ✖ LLVisionAR Glasses
LLVISION AR+AI Dual Spectrum Infrared ThermometricGlasses not only widely used in various scenic spots, custom, airport,community and other places in China, it also has been exported to more than tenforeign countries, including India, Malaysia, The United Arab emirates,Germany, Italy, facilitating the whole world to fight the pandemic.
Terracotta Warriors Museum ✕ LLVISION AR Glasses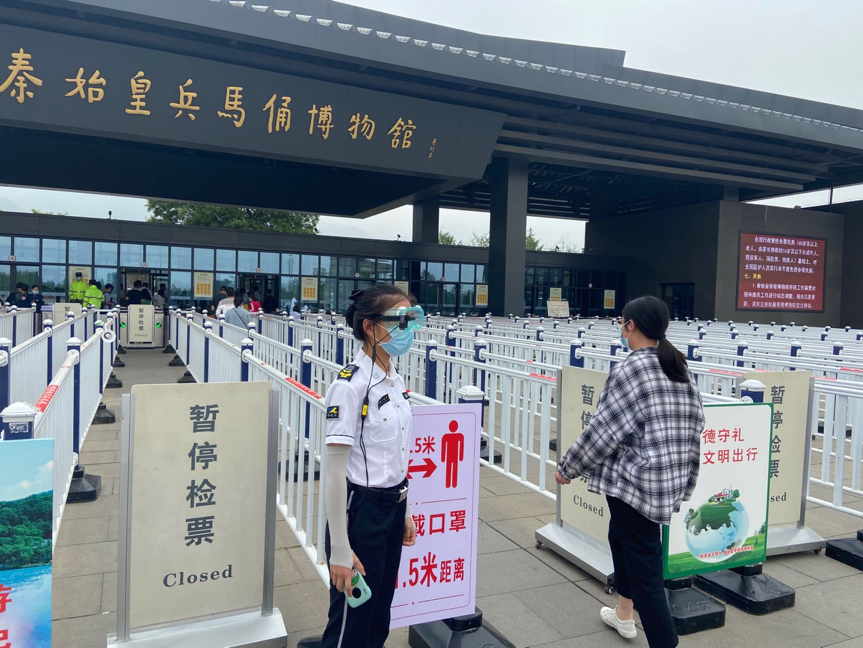 The Terracotta Warriors Museum is one of the country's first national Class 5A tourist attractions and a national-level museum. During "May Day" holiday till now, the museum adopts real name online reservation ticketing system. Visitors are required to show the health green code and measure temperature before entering the museum. Visitors with temperature below 37.3 ℃ are allowed to enter the museum. At the entrance of the museum and in the temperature measurement corridor, staff members wear the LLVISION AI dual-spectrum infrared temperature measurement glasses, which can accurately identify visitors' body temperature in sight without close contact, and visitors can complete the temperature measurement without removing their masks and without stopping.

This temperature measurement smart glasses from LLVISION can detect 200 people per minute and alert them within one second if their body temperature is exceeded, and the results of each temperature measurement are precisely tied to information such as the time of measurement, the location of the measurement, the field image, etc., and the information is automatically recorded and reported greatly relieved the burden on the scenic staff.

Courtyard of Family Qiao ✕ LLVISION AR Glasses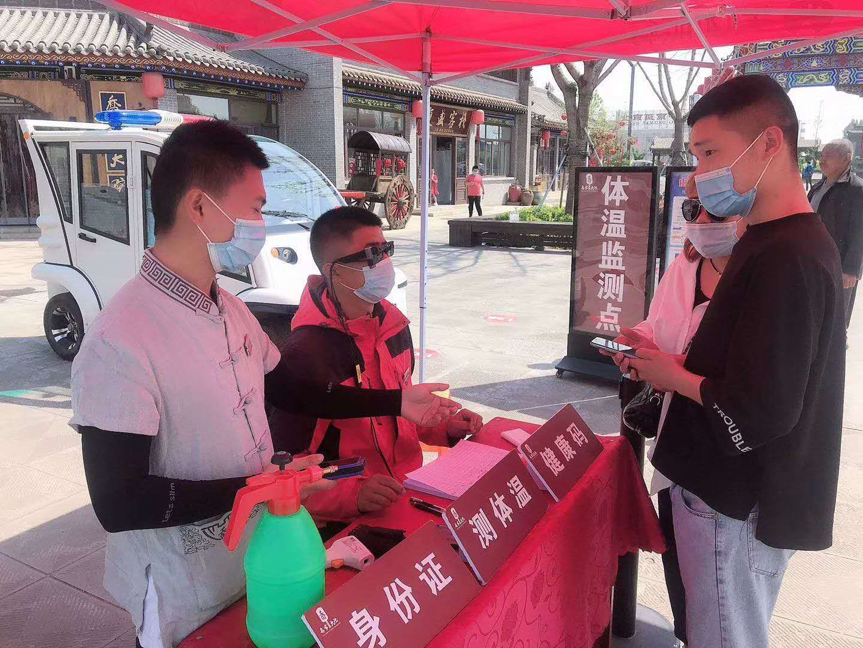 The Courtyard of Family Qiao in Shanxi Province is a national key cultural relics protection unit, a national second-grade museum, with a majestic and spectacular group of buildings, reflecting the unique style of Chinese Qing Dynasty residential architecture.

The scenic spot also equipped with 5G+AI mobile temperature measurement smart glasses from LLVISION. It is a collaboration between LLVISION and China Unicom. 5G+AI mobile law enforcement system enables onsite staff to measure temperature by wearing lightweight infrared temperature measurement smart glasses. After installing the app on android phone and connecting the infrared smart glasses, it provides offline temperature measurement and can be used in conjunction with facial recognition to ensure healthy entry.
Mount Yuntai Scenic spot ✕ LLVISION AR Glasses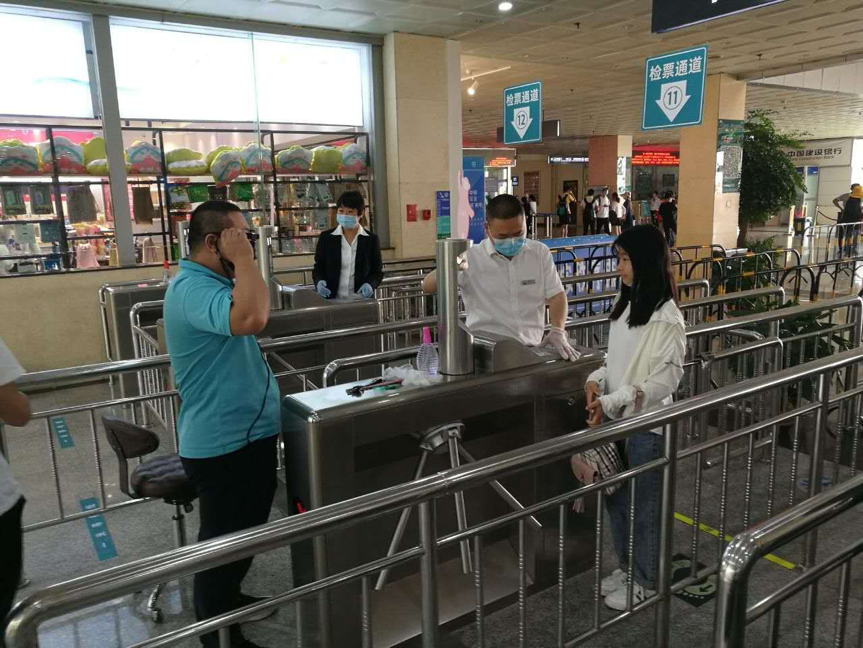 Located in Jiaozuo City, Henan Province, Mount Yuntai Scenic spot is a national Grade 5A tourist attraction. As the largest number of tourists in Henan, Mount Yuntai Scenic spot is in regular epidemic prevention and control at the same time. It requires time- efficient measures to ensure both the prevention of epidemic and fluency of visit.

The Mount Yuntai Scenic spot adopts the 5G+AI head-mounted thermometer smart glasses product by LLVISION. This product is the latest AI Dual Spectrum Infrared Thermometric Smart Glasses released by LLVISION in fighting with coronavirus epidemic.